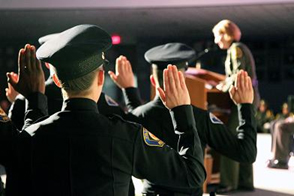 Embassy Consulting has 30 years of experience working with law enforcement from around the country, as well as Internationally, training delegations from Russia, Germany, France, Algiers and Israel. Embassy provides a wide range of quality training programs.
By building mutual respect and trust, law enforcement agencies and their community members can work together to build safe, respectful and inclusive communities.
One cornerstone of this training is bringing together both the community and police to engage in productive dialogue to explore perceptions and expectations in order to improve police-community relations.
TRAINING FOR CORRECTIONS AND JAIL PERSONNEL

Embassy conducts STC Training for law enforcement professionals who work in a jail or correctional setting. Embassy can design training courses to fit the needs of the organization or can provide the required training needed to maintain standards and mandates.
ADDITIONAL TRAINING PROGRAMS DELIVERED BY EMBASSY
Racial Profiling
Leadership
Ethics
Human Relations
Cultural Competency
Hate Crimes
Media Relations
Customer Service
Building Trust in a Jail Setting
Workplace Violence
Sexual Harassment
Risk Assessment
Force Options
Active Shooter Scenario Training
Court and Temporary Holding Facilities Training

"Joe Levy was referred to our department and came with a great reputation as a skilled, passionate and engaging trainer. He trained our entire police department and received high praises. I would recommend Embassy for all your training needs."
Chief David L. Maggard Jr
Irvine Police Department